Lip Fillers Enhance Facial Beauty & Provides Harmony to the Face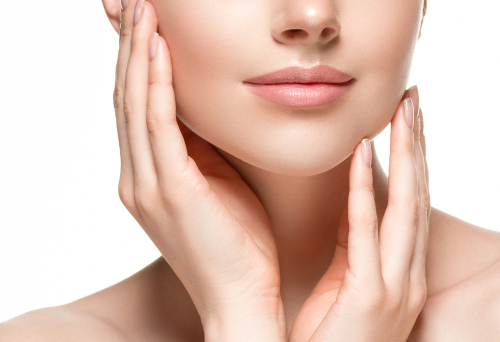 ---
What is the Ideal Lip?
The most important factor to consider with lip augmentation is to maintain overall facial balance and harmony. The lips should not be the central focal point of the face but should, instead serve to complement the facial features.
Perception of beauty is influenced by a number of factors including individuals demographic background and characteristics. However, according to scientific literature, an attractive lip has certain preferred features. A recent 2017 study in the Journal of Cranio-Maxillofacial Surgery survey of over 1000 people in 35 countries reported the key factor for a beautiful lip is symmetry. Sixty percent of responders chose a 1:1 ratio between the upper and lower lip as the most attractive shape. The second highest rated shape was a 1/3 to 2/3 ratio between the upper and lower lip. Other attractive features included a well defined cupid's bow and philtral column. However, as in all aesthetic trends, these findings are subject to change with time.
What can Lip FIllers Accomplish?
With the passage of time sun damage, genetic factors, smoking, and repetitive muscle movement result in loss of volume in the lip body and surrounding lip tissue. This results in a thinner appearance to the lip and the potential development of lip wrinkles and lost support to the corners of the mouth. Lip augmentation with dermal fillers has been used successfully to treat a number conditions including:
Improve the appearance of naturally thin upper and/or lower lips
Restore lost volume due to aging
Improve lip border definition
Soften lip wrinkles ("smokers lines")
Correct downturned corners of the mouth
Restore philtral columns
Correct lip asymmetry
What Type of Lip Fillers should I get?
The best fillers for lip augmentation are hyaluronic acid fillers (e.g. Juvederm, Restylane). The most commonly used fillers for lip augmentation include: Juvederm XC, Juvederm Volbella, Restylane, and Restylane Silk. Each dermal filler has unique properties which enable a personalized correction depending upon the desired aesthetic result. These fillers generally last around 1 year and have the added safety of being able to be dissolved if one is unhappy with the results of the treatment.
Frequently Asked Questions:
Are lip fillers painful?
Lip augmentation is performed in the office under local anesthetic with topical numbing cream or a local nerve block. Once appropriately numbed, there is very little discomfort with the treatment. The injections are typically performed with an ultra-small needle or micro-cannula which minimizes discomfort, swelling, and risks of bruising.
What will I look like after Lip filler?
Your lips will be slightly swollen following your lip filler treatment. However, some swelling may be present for 1 to 3 days, depending upon the individual. Dr Boeckmann takes a conservative approach to lip augmentation, therefore the majority of patients are able to continue with their normal activities the same day. For those patients needing more volume, a series of injections over several weeks is recommended to avoid looking overdone ("duck look").
What are the risks of lip filler?
All patients experience temporary swelling following the treatment which resolves over 1 to 3 days. Patients are advised to avoid any blood thinning agents (aspirin, ibuprofen, Vitamin E, herbal supplements) 10-14 days prior to treatment to minimize bruising risks. There is a small risk of nodules or lumpiness following placement which can be avoided with appropriate placement. Patients at risk of cold sores or fever blisters may require antiviral medication prior to the treatment.
A rare, but devastating complication of tissue necrosis can occur if filler is inadvertently placed into the blood supply to the lip. It is therefore important to do your homework prior to treatment and to see a board-certified professional who is highly experienced in lip augmentation.
Expert Lip Fillers Injector in Orange County
Lip enhancement with improved volume and definition are common requests among lip augmentation patients in Orange County. Dr. Boeckmann has extensive experience in providing facial injections in Orange County having treated thousands of patients. As a double board certified head and neck and facial plastic surgeon, Dr. Boeckmann has an in-depth understanding of the anatomy of the face. In addition to his clinical practice, Dr. Boeckmann is also involved in teaching other physicians and providers the most advanced and up to date injecting techniques.
To learn more about expert lip augmentation treatments in Orange County with Dr. Boeckmann contact our Laguna Niguel office at 949-273-3112 and schedule your consultation.